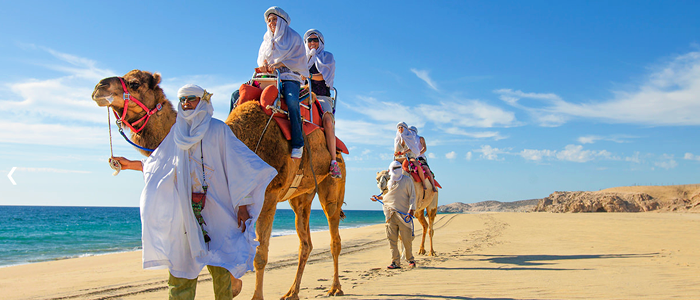 Cabo Adventures - Outback And Camel Safari
OUTBACK & CAMEL SAFARI: Spectacular views, knowledgeable guides, delicious cuisine and an exciting camel ride overlooking the ocean at Rancho San Cristobal.
Price includes
Price excludes
Cancellation policy
No refunds will be made for any services booked through Casa Theodore, Inc. with less than 48 hours notice of cancellation and any cancellation are subject to a 10% administrative fee plus cost of food.
Set out on a voyage of unique proportions as you journey through the Baja desert atop a friendly camel. Discover the natural wonders and rich Baja Californian culture of the region from our expert guides. Get introduced to your camel by name before hopping on the hump and setting off to explore!
Ride along the Cabo desert and beside the Pacific Ocean to enjoy the sights, the refreshing sea breeze and the crashing waves on this unique eco-tour. Take a quick stop to meet our sweet "kissing camel" and pose for a fun photo with a soft smooch!
Finish your day with a delicious, multi-course Mexican lunch complete with refreshing beverages and tequila tasting at our Casa Típica that overlooks the boundless Pacific Ocean!
Price Match Guarantee, so you can book with confidence. If you find a lower price, just let us know, and we can match the price.