BAJA FISH TACOS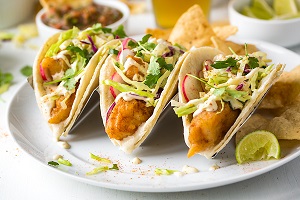 INGREDIENTS:
• Vegetable Oil (Enough to Fill Your Pan for Frying)
• 1 Cup of Multi-Purpose Flour
• 1 1/\4 Cup of Mexican Beer
• 1 LB of Fish Fillets Cut into Strips
• 1 TSP Salt


INSTRUCTIONS:
1. Heat the oil in a pan over medium heat.
2. In a bowl, add the flour, salt, and beer, and beat until the mixture is smooth.
3. Add the fish strips ot the batter mixture.
4. Add the battered fish to the heated oil and fry for a few seconds or until borwn.
5. Drain the fried fish and sprinkle with salt.