FAJITAS STEAK OR CHICKEN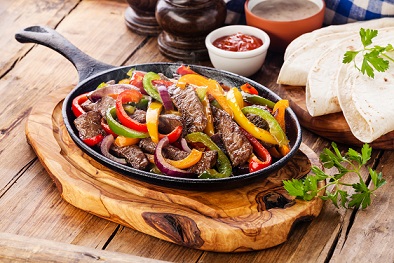 INGREDIENTS:
• 1 LB Beef Tenderloin Steak (Boneless & Cut into Thin Strips) *Can Use Chicken Breast as an Alternate Option
• 1 Medium Green Pepper (Julienned: Cut into Strips)
• 1 Medium Red Pepper (ulienned: Cut into Strips)
• 1 Medium Yelllow Pepper (Julienned: Cut into Strips)
• 8 Flour or Corn Tortillas
• Salt & Pepper to Taste
• Oil
INSTRUCTIONS:
1. Add oil to heated pan over medium heat.
2. Season the beef strips with salt & pepper, let stand.
3. Add the peppers and onions to the pan and saute. If the pan is too full, you can do it in two parts. Once cookeed, set aside in a bowl.
4. In the same pan, add a little oil and cook the beef strips.
5. Once cooked, add thesauteed peppers and onions back to the pan and season with salt and pepper to taste.
6. Serve with flour tortillas.